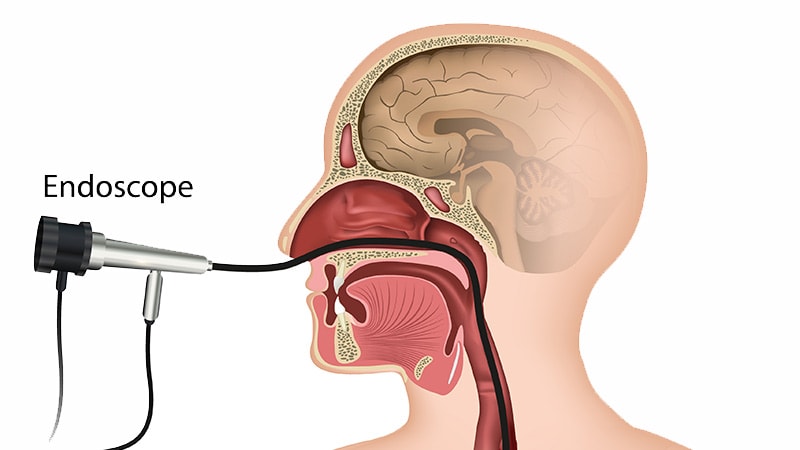 In primary care, transnasal endoscopy without sedation might be the solution for an easier and simpler route to early diagnosis of Barrett's esophagus and esophageal cancer.
The growing prevalence of Barrett's esophagus and esophageal cancer have created an urgent need for screening tools that are accurate but simpler than conventional endoscopy, according to Lotte J. Huibertse, MSc, of the Department of Gastroenterology and Hepatology at Raboud Institute for Health Sciences, Nijmegen, the Netherlands.
"Transnasal endoscopy [TNE] is a safe and well-tolerated alternative to conventional endoscopy, and it has the potential to be used in an office-based setting," Huibertse said.
This contention is supported by a prospective study. Over a 1-year period, 166 patients from four different primary practices agreed to participate in the trial. All had been diagnosed with symptoms of gastroesophageal reflux disease.
Those considered to have Barrett's on the basis of TNE administered without sedation underwent a conventional endoscopy with biopsies to confirm the diagnosis, according to Huibertse, who presented the findings at the 2022 United European Gastroenterology Week.
Barrett's esophagus was suspected in 14 (8.4%) of those evaluated with TNE. All but two had the diagnosis confirmed when evaluated with conventional endoscopy. The absence of metaplasia on the biopsies does not exclude the possibility that Barrett's was present, the researchers added.
Of the others evaluated, no abnormalities were seen in 77 (46.4%). Thirty-seven patients (22.4%) had hiatal hernias. The others had varying degrees of esophagitis.
For Now, a "Triage Test"
For patients suspected of having Barrett's esophagus, this transnasal procedure could streamline a screening process that now involves referral to a specialist, use of sedation, and a recovery period, Huibertse said. But she cautioned that TNE cannot yet be considered a substitute for conventional endoscopy.
"As further evidence is needed on the yield of unsedated, transnasal-guided biopsies to detect neoplasia, this approach should only be used as a triage test after which confirmatory conventional endoscopy is indicated when Barrett's is suspected," she told Medscape Medical News.
TNE is already being used to circumvent the limitations of conventional endoscopy at many centers. One group in London opened a TNE clinic outside of a conventional endoscopy suite to facilitate endoscopic studies during the COVID-19 pandemic.
Based on that experience, Jason Dunn, MBBS, PhD, a consultant gastroenterologist at Guy's and St. Thomas' NHS Foundation Trust, called TNE "a safe, well-tolerated and resource-efficient alternative to conventional endoscopy." Consistent with other published reports, Dunn and his colleagues observed no discomfort or minimal discomfort in more than 90% of the 190 patients who underwent the procedure.
The Dutch group reported a similarly high rate of patient acceptance in the primary care setting. According to Huibertse, no serious adverse events occurred in her study, and most patients reported little or no discomfort. When asked to rate tolerability of on a 1-10 visual analogue scale, the mean score was 6.3
By bypassing the tongue, palate, and uvula, the ultrathin endoscope — roughly 6 mm in diameter — generally circumvents the gag reflex, according to published studies, including data presented by Dunn. He said the upfront costs of acquiring transnasal endoscopes are compensated by foregoing sedation. This reduces the need for monitoring and staff. Relative to conventional endoscopy, unsedated TNE also reduces disposable plastics, such as mouthguards and syringes required to administer sedatives.
The premise of unsedated TNE is consistent with several initiatives to make screening for Barrett's esophagus simpler and more efficient, according to Vivek Kaul, MD, a professor of medicine in the Division of Gastroenterology and Hepatology, University of Rochester Medical Center, Rochester, New York. Kaul called offering these screening techniques in primary care settings "an attractive new paradigm" to handle the growing demand for screening.
"This is especially worth exploring given the post-pandemic backlogs and access issues that GI endoscopy has been dealing with," Kaul said. Relative to conventional endoscopy, he agreed TNE offers several advantages, including lower cost and avoiding the potential complications of sedation.
Yet, he pointed to at least two obstacles to widespread adoption.
"Both cognitive and procedural training aspects will need to be in place for optimal use of this strategy," Kaul said.
Huibertse reports no relevant financial relationships. Kaul reports financial relationships with AMBU, CDX, Cook Medical, Motus GI, and Steris.
United European Gastroenterology Week 2022: Abstract P0089. Presented October 9, 2022.
Ted Bosworth is a medical journalist in New York City.
---